Playlist & Show Notes
In 1985 the Soviet Union banned 38 famous musicians and bands whose "repertoires contain ideologically harmful compositions." Who is on this list is going to surprise you. Some are the usual suspects, like the first two bands I'm going to play. Some… Not so obvious. Some banned acts will truly astonish you.
I got my hands on that list of bands banned in the U.S.S.R. and during the middle hour of the show, the "Happy Hour," I play for you the hard rock, heavy metal, and hair bands on the list as well as tell you why they were prohibited from radio play, play in clubs and bars, and from being played live by Russian bands.
Plus: Hits from Bon Jovi, Ratt, Def Leppard, Cinderella, and others. Two songs with the same name from different stadium-filling hair bands, and the Cover Song of the Week, a song every real rock fan knows from just three simple hand gestures.
The List
Here is the complete list of the musical acts banned in 1985 by the U.S.S.R.'s All Union Lenin Communist Union of Youth Nikolayev Regional Committee of Komsomol of Ukraine, in the order included on the original Soviet list. Beside each musical act is the type of "ideologically harmful" propoganda allegedly contained within their respective musical catalogs.
The Sex Pistols: punk, violence
B-52s: punk, violence
The Madness: punk, violence
The Clash: punk, violence
The Stranglers: punk, violence
KISS: neofascism, punk, violence
Krokus: violence, cult of strong personality
Styx: violence, vandalism
Iron Maiden: violence, religious obscurantism
Judas Priest: anticommunism, racism
AC/DC: neofascism, violence
Sparks: neofascism, racism
Black Sabbath: violence, religious obscurantism
Alice Cooper: violence, vandalism
Nazareth: violence, religious mysticism
The Scorpions: violence
Genghis Khan: anticommunism, nationalism
UFO: violenct
Pink Floyd: distortion of Soviet foreign policy ("Soviet agression in Afghanistan")
The Talking Heads: myth of the Soviet military threat
Perron: eroticism
Bohannon: eroticism
The Originals: sex
Donna Summer: eroticism
Tina Turner: sex
Junior English: sex
Canned Heat: homosexuality
Munich Machine: eroticism
TheRamones: punk
Van Halen: anti-Soviet propaganda
Julio Iglesias: neofascism
Yazoo: punk, violence
Depeche Mode: punk, violence
The Village People: violence
10cc: neofascism
The Stooges: violence
The Boys: punk, violence
Blondie: punk, violence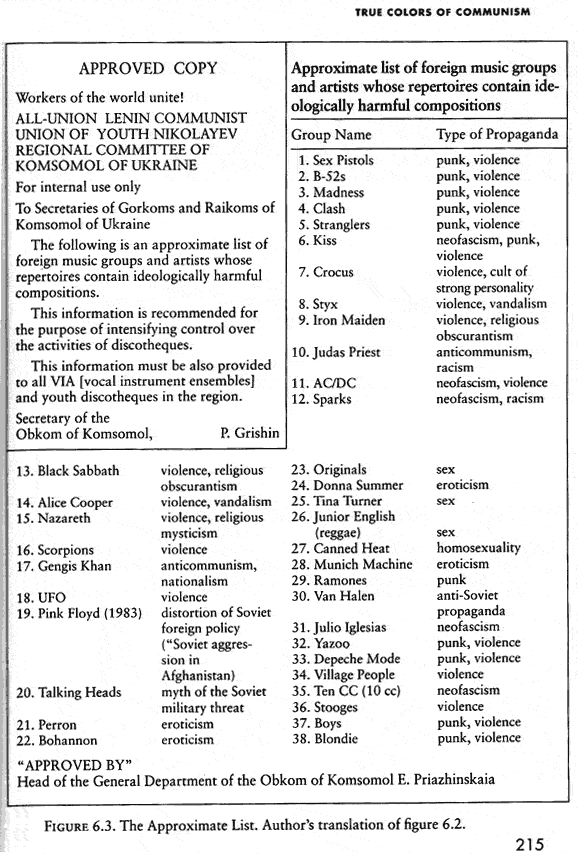 Source: Everything was Forever, Until it was No More: The Last Soviet Generation by Alexei Yurchak.
Playlist
Own the hits and deep cuts you hear on Hard, Heavy & Hair! Click the iTunes/Apple Music or Amazon Digital Music icons to the left of each song.


Bon Jovi – You Give Love a Bad Name


Mötley Crüe – Rattlesnake Shake
Happy Hour: Banned in the U.S.S.R.


Judas Priest – Living After Midnight


Iron Maiden – The Number of the Beast


Krokus – Screaming in the Night


Def Leppard – Let's Get Rocked