Add Hard, Heavy, and Hair with Pariah Burke to your station's lineup!
We're actively looking to syndicate to other radio stations–FM, AM, LPFM, and Internet. Make contact and let's talk about adding Hard, Heavy, and Hair with Pariah Burke to your station's weekly lineup.
Professionally produced
100% barter
Free for non-commercial stations
For FM, AM, and Internet stations
Market exclusivity (for commercial, Orbitron-ranked stations)
Delivered in multiple formats (WAV, AAC, MP3, Flac; segmented, non-segmented)
New shows delivered Mondays
Access to show archives for reruns and filler
Affiliates promoted on social media and on-air
On-air promos recorded for your station
Think House of Hair meets Sirius XM Octane with a dose of Casey Kasem, a dash of Howard Stern, and a giant splash of Eddie Trunk.
Hard, Heavy & Hair with Pariah Burke is a weekly syndicated radio show featuring two hours of heart-pounding, guitar-crunching, horn-throwing in the best Hard Rock, Heavy Metal, and Hair Bands from the 70s, 80s, 90s, 00s, 20-teens, and all the way up to today. 250+ weekly episodes and ready for air on your station.
The Hard, Heavy & Hair Show plays new releases and all-time greatest hits, deep cuts, and rarities with Rock N' Roll trivia, humor, news, and artist interviews along with regular features such as:
"The Cover Song of the Week" weekly feature plays a Hard Rock or Metal cover song followed by the original version, by the original artist, regardless of genre.
"Radio Rewind," a semi-regular feature, is an immersive time-shift focusing on one year in the past, playing singles heard on the radio that year, while reading headlines and pop culture references from the year as if the listener had tuned their car radio to an FM broadcast recorded that year.
Special "Happy Hour" occasional features and episodes with different themes. Recent themes have included "Ladies Night," "Supergroups," "Gone But Not Forgotten," and "American Hair Bands," and more.
Holiday special episodes. Examples: "A Hard, Heavy & Hairy Christmas," "A Heavy Metal Halloween," and "The Valentine's (and Anti-Valentine's) Day Special".
Clock, Format & Delivery
The Hard, Heavy & Hair Show is delivered weekly via email and Dropbox on Mondays (Pacific Time).
Delivery emails include:
Playlist (for reporting and promotion)
Show notes (for promotion)
Show artwork/cover image (for promotion and display)
Link to Dropbox downloads
Link to show archives (previous shows are available for re-air, filler, overnights, etc.)
Shows are delivered in multiple formats.
6x 18-minute segments with 6 minutes of local inventory per hour. Segment lengths are soft times.
For Net and other stations that don't need local inventory time, a 7th optional 12-minute "Break Fill" segment with exclusive content is provided. This allows easier segment scheduling while maintaining a full 2-hour/120-minute runtime.
For stations that don't need segment scheduling, a solid 2-hour/120-minute version of the show is provided as a single file (all 7 segments in one continues playing file).
WAV, Flac, 320 MP3, and 256 MP3 file formats are available.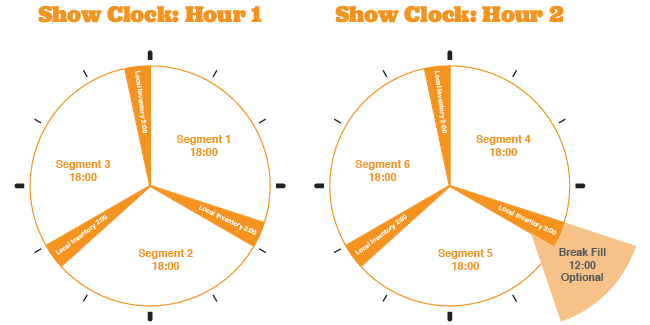 Make Contact
Make contact to get Hard, Heavy & Hair with Pariah Burke added to your weekly schedule.